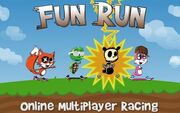 Fun Run - Multiplayer Race, or more commonly referred to as Fun Run, is an online multiplayer real-time racing game made by dirtyBit on the iOS and Android platforms. In the game, the player plays a animal character who is racing against other animals to be the fastest.
Description
This description is taken from the description of the game on the Google Play Store and Apple App Store. This description was written by the dirtyBit team. No credit taken.
All the cutest, furriest creatures of the forest are out running. For you to remain a cool critter, it is essential that you finish the race before your furry friends.
No amount of force is excessive.
Fun Run is an online real-time multiplayer game for smart phones and tablets, both Android and iOS. You can be anywhere in the world and play with up to four players simultaneously. Play with your friends or get matched with random players from around the world!
Gameplay
In Fun Run, the player controls a customizable character in a race against up to three other opponents in real time. There are two buttons to press, one to jump and the other to use any available power ups. The goal of the game is to beat the other opponents to the finish line to come in first place. Each game lasts around a minute long and ends when all the players cross the finish line that haven't disconnected. There are different map options available to play on throughout the game, and a rating system to compete against others. There is also a shop where different [[List of shop items|items can be bought with coins earned from playing the game. The player can play in Quick Play against three other randomly selected players from around the world, or against friends.
Development
Fun Run was developed by dirtyBit Games, a gaming company from Norway. Fun Run was released on September 5, 2012[1] on the Apple App Store and Google Play Store. The developers of the game are Erlend B. Haugsdalm, Martin N. Vagstad, and Nicolaj B. Petersen.[2] The graphics were designed by Peder A. Aune and MArtin S. Sangolt. The marketing was done by Maruis Giske.
References